*** Powder & Bulk Solids 2008 is over!! ***
Date: May 6 (Tue) - 8 (Thu), 2008
Place: Donald E. Stephens Convention Center, Rosemont (Chicago), IL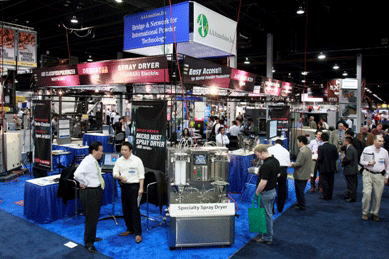 Organizer: CANON COMMUNICATIONS LLC
AAAmachine booth#: 1605/1607
Official web site: http://www.powdershow.com

PTXi provides a full range of processing technologies, products, equipment, systems and services conveniently located in dedicated events focused on powder and bulk solids processing, chemical processing, pharmaceutical processing, and packaging solutions for the processing industries.
PTXi - Jointly held with 3 major exhibitions-(1) Powder & Bulk Solids, (2) ChemProcess, (3) PharmaProcess, (4) ProcessPack --- total 4 exhibitions

*** Technical session presented at PTXi by Nisshin on May 8 ***
1) Date: Thursday, May 8 (Thu), 2008

10:00 AM -11:00 AM (2nd presentation)

2) Place: PTXi2008 Technical Session 404: Nano Powders

In Rosemont, IL (at seminar room in Convention Center)

3) Title: Preparation & Property Control of Fine Powder in Dry Processes ->

abstract

4) Presented by: Dr. Satoshi Akiyama, Manager (Nisshin Seifun Group Inc.)

Dr. Carl Ishito (AAAmachine, Inc)


If you are interested in this paper, please contact us for free copy.

---
AAAmachine introduced the following global powder handling equipment manufacturers from outside of USA,
MATSUBO Corporation (air classifier, pulverizer)
Nisshin Engineering Inc. (air classifier, jet mill)
Exen Corporation/Moritani America Inc. (Air knocker/impactor-Flow aid device)
Matsushima Machinery Laboratory Co., Ltd. (level sensor)
ACO Co., Ltd. (dust remover)
Fujisaki Electric Co.,Ltd. (Spray Dryer)
AAAmachine is technical and marketing agent of these companies in US.
If you have any questions or equipment inquiry, please call AAAmachine at 800-996-0070 or e-mail us.