Business mission
1. Announcement to International DIRECT Buyers
AAAmachine will introduce to buyers "ONLY-ONE technology" AAA rating powder handling equipment mainly manufactured in foreign countries at reasonable cost. Direct sales will minimize the intermediate cost. Buyers will find the best recommended foreign equipment by AAAmachine's consultation (initial free). In order to select best matching equipment, AAAmachine is happy to assist buyers to find out the right equipment to suit their needs at NO INITIAL CHARGE. AAAmachine will get a commission from the manufacturer which the buyer will finally decide to purchase the equipment from.

So NO INITIAL COST to buyers for this service!!
professional advice in powder/nanotech/bulk/food process/traceability technology
and energy saving equipment
Every powder/energy saving/traceability technology company has its own unique equipment to be able to be sold globally. AAAmachine will introduce foreign buyers the unique equipment of each manufacturer - unique equipment only from their broad products line.
AAAmachine will achieve the matching of foreign seeds and domestic needs as well as domestic seeds and foreign needs by sharing our marketing infrastructure shown in the end of this page.
---
2. Announcement to International DIRECT Sellers = Equipment Manufacturers
Although there are so many powder/energy saving/traceability technology equipment manufacturing companies who have their own featured technology and successfully sell their machines in domestic market, they are too busy to export the machines to foreign market. By supplying these manufacturers (supplieres) with international direct sales/marketing tools, AAAmachine will assist their international sales. Many of these companies have their own ONLY-ONE technology and every company has a chance to sell globally in
USA, Canada, Mexico, Europe, Australia, Asia, Latin America, Russia, etc.

But, in actual business, the higher or deeper the technology becomes, the more expensive the initial/running cost becomes for sales/marketing, because they need to send the expert from their own country. Normally customers to buy the equipment are professionals to ask the manufacturer's representatives technically. The representatives must be also professional sales engineer in order to answer to these technical questions.

AAAmachine will support suppliers/manufacturers of powder, nanotechnology, food process/traceability, energy saving equipment/technology in direct marketing their AAA rating equipment to foreign buyers in Asia, North/South America, Europe, etc. by supplying with a reasonable marketing infrastructure as follows.

---
★★★Global Marketing Service ★★★
Marketing type
Yearly contract
Yearly contract
Plan name
Light Plan
A-la-carte Plan
Consulting fee
N/C
N/C
CPL (Cost per Lead)
$250/lead
($1000/month maximum)
Web site,
mail news marketing
in Japanese
No monthly charge
$100/month
(new site creation charge to be discussed)
(new site creation charge to be discussed)
Pdf catalog download page
at Japanese site
No charge
$50/month/equipment
Hot link to Supplier's site
No charge
$50/month
Supplier's logo at Japanese site
No charge
$50/month
Communication in Japanese
and
Parts sales,
service & maintenance contact
No charge
$250/month
 Please contact us for detailed agreement draft.
---
Corporate concept 
AAAmachine contributes to providing solution to BUYERS & developing global powder (nano, basic & advanced) and food process/energy saving technology by internationally marketing AAA rating equipment/technology manufactured by reliable SELLERS (manufacturers).
<< International Technology Transfer & Networking >>
Please contact us for detailed agreement draft.
---
Business model example 
** In case of BUYER (USA/Canada) and SELLER (other than USA/Canada) **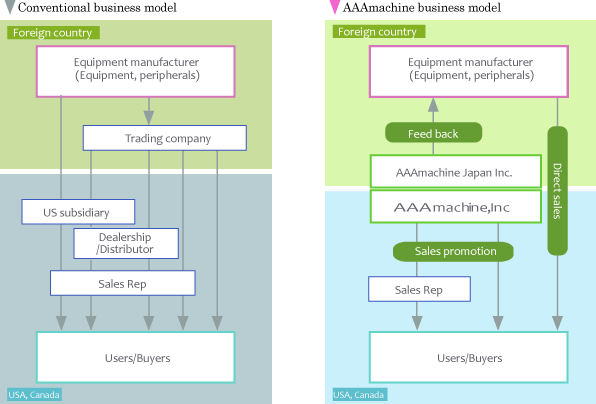 ---