Since 1924, Tsutsui has been trusted to provide outstanding, high-quality scientific instruments to a wide range of clients with diverse powder and bulk solids needs throughout the world. We pride ourselves on our commitment to our customers and their specific needs; Our highest priority is our customers' success.
In 1924, Nitaro Tsutsui established Tsutsui Scientific Instruments Shop in Japan. At this time, the company connected industry professionals to lab equipment made by other companies. After 24 years of success, Tsutsui expanded its scope: we began in-house manufacturing our own instruments as Tsutsui Scientific Instruments Co., Ltd. This has given us a better eye on quality control and the ability to customize our instruments, better addressing our valued customers' needs.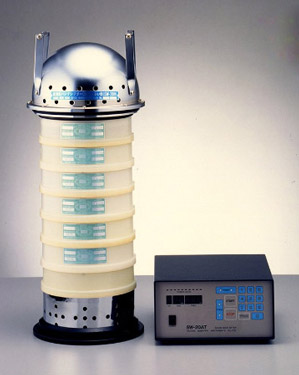 We specialize in instruments for working with powder. Powder is a complex substance with a wide range of application for various commercial and educational organizations. Powder's many unique characteristics can be difficult to understand, so we've created a line of precision instruments to simplify the understanding process. Let our tools calculate the diverse properties of powder and put the various powders your industry works with to work for the best quality results. Tsutsui has been a trusted name in the global powder and bulk solids field for almost a century. Our longevity speaks for itself. We continue to adapt to change and innovation in the field, and are commited to providing you with the instruments you need for vey specific types of powder.
We have been trusted to deliver superior products to many leading brands, organizations, academic institutions, and government agencies over our long history. We serve diverse groups with focuses from milling to glass to pharmaceuticals. These include Fuji Xerox, Canon, Mitsubishi Chemical, the National Institute of Advanced Industrial Science and Technology (AIST), and the Ministry of Agriculture, Forestry and Fisheries as well as the Ministry of Defense in Japan.
Tsutsui participates in exciting new research fields, such as 3D printing, by connecting customers with innovative, intelligent products. We are an important part of the future and firmly believe in continual development and improvement.
We engineer and manufacture our products in Japan. We are proud to now be available through the US distributor AAA Machine, which is bringing the trusted reputation and quality products of Tsutsui straight to the US. If you've ever wanted the expertise of Japanese engineering but were frustrated that the only distribution sites were in Japanese. now you get the best of both worlds: Japanese products explained in English, from a distributor headquartered just outside of Chicago.
We invite you to learn more about us and allow you to trust the Japanese-engineered quality and time-tested experience of Tsutsui Scientific Instruments. We are confident we can connect you with the perfect powder analysis instruments for your needs.