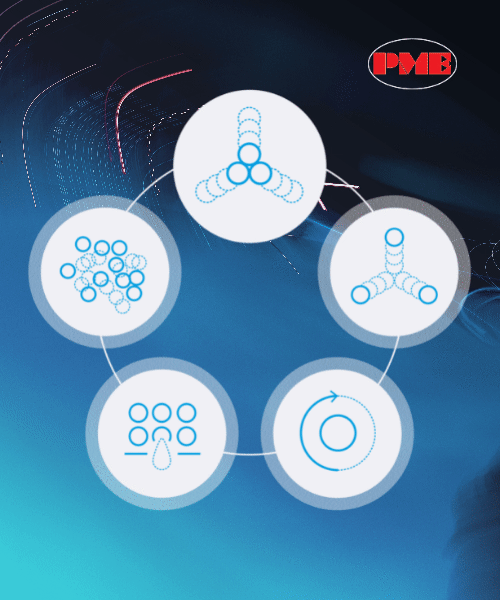 Don't get PME Mixers mixed up with the rest.
Mixers available on the market today and the rise of PME's state-of-the-art industrial mixers
Industrial mixing machines have a few set types of industry-standard technologies that weren't meeting the demands of modern production so PME set out to create even better mixing machines.
Microparticles and nano particles: Mixing isn't just mixing or kneading any more. It's pulverising, chopping, crushing agglomerates, defibrating, coating, and breaking down materials into tiny particles for more effective precision mixing. To make sure these particles don't clump and form agglutinates and agglomerates, dispersion mixing is essential.
In other words, effective mixing equipment solutions need to be capable of a complex technology called dispersion mixing of particle agglomerates.
In conventional powder mixing, ribbon type mixers were the industry standard. Low speed ribbon mixers just can't produce the strong dispersion like a mixer with high-speed shearing action can, and that's why we innovated our:
Pam Apex Mixer
Many functions, one mixer
All the processes for the price of one machine
Now more than ever, due to the greater needs for processing a wider variety of diverse materials, mixing machinery able to handle the dissolving, dispersing, emulsifying, and humidifying processes are more in demand than ever.
PME answers the call for mixers capable of homogeneous emulsification and dispersion of a wide array of materials.
Spiral Pin Mixer
Based on your exact needs
If you need a dry powder mixing machine, you need PME's Pam Apex Mixer, and here's why
Ultra-precise mixing in a very short time (= Output quality improvement + all processing steps done in one machine, so a much smaller hardware footprint)
Multifunctional mixing methods (Crushing / Pulverizing / Grinding / Homogenizing / Drying / Granulation)
One machine can handle various stages of the mixing process such as: mixing, humidification, coating, drying, cooling, and reaction with one unit.
Units are designed based on customers' specs making them able to meet all the customers' needs in one machine. Something that others just can't.
High viscosity? No problem.
If you need wet mixing, you need PME's Spiral Pin Mixer, and here's why
With just one compact PME mixing machine you can process a large volume of materials.
Perfect for high viscosity materials, it can dissolve and fluidize particles into homogenized output.
Compared to other mixers on the market, the design is simple and streamlined and the rotor is easily replaceable.
Maintenance is easy; Easy to clean, easy to maintain = more production with fewer manhours spent on upkeep.
Mixing, agglomeration, dispersion, coating, granulation, defibrating, drying - PME Mixers do it all.
What can PME mixers do for you? Almost everything!
Material:

Powder + Powder
Material:

Powder + Liquid
Material:

Powder + Liquid
Viscous Material + Viscous Material
Material:

Viscous Material + Liquid
Viscous Material + Viscous Material
Material:

Viscous Mass (Dehydrated Cake)
PME Mixers
Mixer

01
Dry Mixing

02
Humidification Mixing

03
Dissolution Mixing

04
Mulling

05
Fluidization

Pam Apex Mixer
Best
Best
Not recommended
Not recommended
Not recommended
Spiral Pin Mixer
Good
Good
Best
Best
Best