*** International Powder & Bulk Solids 2014 is over.
The next show is scheduled in May 2016.

Date: May 6 (Tue) - 8 (Thu), 2014
Place: Donald E. Stephens Convention Center, Rosemont (Chicago), IL
Organizer: UBM CANON
AAAmachine, Exen, Matsubo booth#: 2123 (600sf, 20'*30')
Yoshikawa booth#: 4044 (200sf, 10'*20')
Matsushima Measure Tech booth#: 1453 (300sf, 15'*20')
Fujisaki Electric booth#: 2641 (100sf, 10'*10')
Freund Vector booth#: 2617 (100sf, 10'*10')
APPIE (The Association of Powder Process Industry and Engineering, Japan)
booth#: 3038 (100sf, 10'*10')

Official web site: http://www.powdershow.com

Powder/Bulk handling & Green technology booth at PBS-PTXi 2014

EXEN / Moritani America Booth (#2123)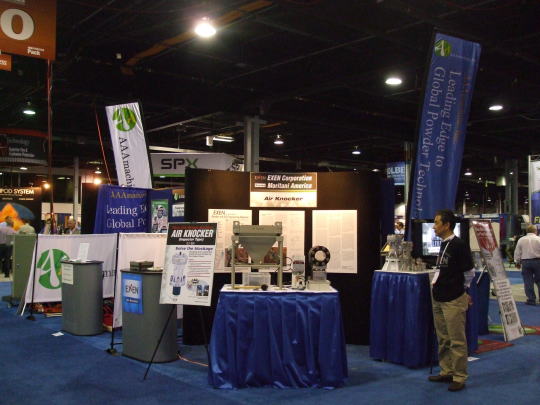 MATSUBO Corporation Booth (#2123)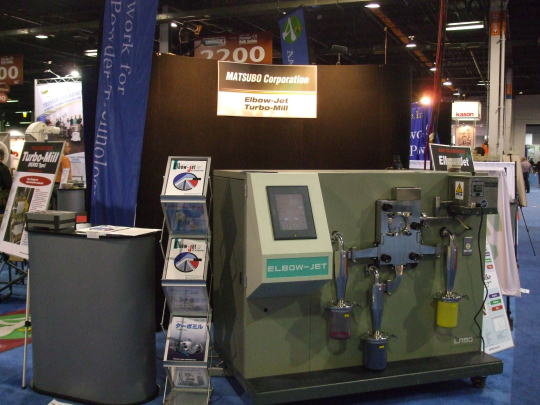 Fahrenheit / AAA Save Energy booth (#2123)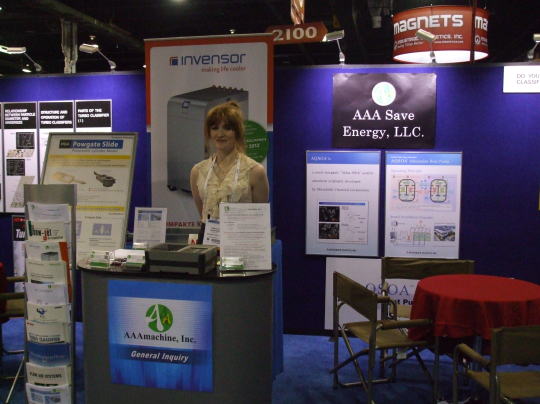 AAAmachine booth (#2123)


Matsushima Measure Tech booth (#1453)


Yoshikawa booth (#4044)

◆ AAAmachine booth information ◆
AAAmachine is assisting the following global powder handling equipment manufacturers from outside of USA. Booth#2123 (all other),#4044 (Yoshikawa),#1453 (Matsushima), #2641 (Fujisaki Electric), #2617(Freund Vector)
EXEN Corporation #2123
Air knocker

Knocker / Impactor 100% operated by pneumatic, to solve any kinds of problems, such as bridging, rat hole, arching, and adhering in the hoppers / bins. This flow-aid device can solve the problem where the vibrators cannot be the solution, especially for fine and sticky powder in toner, ceramics, minerals, food, chemical industries.

MATSUBO #2123
Air classifier / Powder processing service

.

MATSUBO Corp. will demonstrate

Elbow-Jet

(an air classifier to produce three multiple fractions at one time)

Elbow-Jet classifier is a dry processing classifier that was designed on COANDA effect. It mainly handles fine raw materials ranging from 0.5 to tens of micrometers, and can perform precise separation as well as simultaneous separation to 3 fractions (Fine/Middle/Grit).

The Classifier has no moving parts and it is strong advantage to abrasive, sticky, or fragile feed materials.

Elbow-Jet Air Classifier can be scaled up from small

to larger-sized models

with same classification performance.

EJ-L3 laboratory service is also available.




Fahrenheit / AAA Save Energy
#2123
Adsorption Heat Pump (AdHP) Chiller

Chilled water from hot water
Fahrenheit introduced Adsorption Heat Pump (AdHP) Chiller

- 10KW (3RT, 36,000 BTU/hr) cooling capacity

(758kb), utilizing 65 - 85 degree C (149-185 degree F) hot water-AQSOA(TM)

inside

, This can produce c

hilled water directly from hot water only.

Electricity is used only for control & water flow.

This chiller unit uses waste heat or solar hot water and contributes to environmental sustainability through reduced CO2 emissions. Using water as the refrigerant, this next generation chiller boasts a system COP (Coefficient of Performance) of 10. (

COP=10 means 10 kw cooling capacity can be acquired from 1 kw electricity

.) No Freon, no Lithium Bromide is required.

NISSHIN ENGINEERING
#2123
Air classifier / Powder processing service

Nisshin Engineering Inc. is a AAA-rated powder-handling equipment manufacturer in Japan. AAAmachine Inc. is the U.S. marketing/technical agent. Main products include the

Turbo-Classifier(a micron order air classifier), the AeroFine Classifier

(a submicron order air classifier), the Super Jet Mill (jet mill), Super Rotor mechanical mill, and Dispa-Mue-R/PDSL (dry powder sprayers and dispersers).


ACO

#2123
Wet scrubber and Dust remover

ACO offers

dust remover

for dry/wet.

Wet Scrubber

is dust/odor remover.

Jet Separator

, a secondary air-introducing-type

patented dry dust remover

, is used in pneumatic line. A laboratory model demonstration/test is possible at AAAmachine laboratory in Chicago. Machine tools, metals & reactive powder for wet scrubber. Recycling floor vinyl tile & plastic pellet for jet separator.

Yoshikawa Corporation #4044
Bin discharger


Yoshikawa Circle Feeder solves discharge problems of hoppers/silos. It can discharge difficult powder, such as wood chips, DDGS, submicron powder, sticky and agglomerative powder, etc. Over 7,000 units were sold for various feeding needs from powders to lumps. The CIRCLE FEEDER® is a registered trademark in 33 countries.

MATSUSHIMA Measure Tech
#1453
Dust switch/monitor, Level sensor
Matsushima Measure Tech Company Ltd. offers level and flow measuring instruments covering all kinds of principles, such as 26GHz Pulse Radar Microwave Level Sensor, FMCW microwave, ultrasonic, electromechanical, vibrating, capacitance, rotary paddle, and more to cover simple storage silos up to high temp./pressure furnaces, ovens, and kilns in the metal, power plant, mining, plastics, food processing, chemical, and other industries. Various kinds of conveyor automation devices and position indicators are also available. 26GHz Pulse Radar level sensor to measure the powder/bulk/ level from 0.3 meter (1 feet) up to 70 meter (230 feet), which will fit large/tall silos.
FUJISAKI ELECTRIC #2641
Spray dryer

MICRO MIST SPRAY DRYER
(1) Using patented 4-fluid nozzle, continuous atomizing operation is possible for hours.
(2) Large atomizing capacity of particles in "single micron" size is possible.
(3) Keeps exhaust temperatures low.
(4) Sharp and narrow particles size distribution can be produced.

Freund Vector #2617
Turbo-Screener

Turbo-Screener
(1) Possible to classify powder with very fine screen opening size. As screen pulsation prevents screen from clogging, difficult powder can be classified.
(2) Agglomerates are disintegrated by rotating blades. Soft lumps of agglomeration can be disintegrated by rotating blades during classification process.
(3) Easy dismantling and cleaning. Turbo screener is designed to meet GMP specifications.
(4) High throughput despite its compact size
TSUKASA/TAKAGAKI SEISAKUSHO #2123
Valve



Tsukasa Powgate Slide valve - Features
Simple structure to achieve less trouble/low maintenance
The seal system designed for powder discharge
Prevents particulate clogging the guides by improving seal performance.
<Square type>
For standard or oblong discharge ports.
Discharge of particulates beneath conveyors, tanks
<Round type>
For round discharge ports.
Discharge of particulates beneath silos, check bins

This square shut-off valve is usually installed at the end of feeder just before hopper scale. It is a metal touch valve and quickly swings side-to-side. This quickly activates as soon as the signal is sent from hopper scale. No tailing is realized. Takagaki also has a butterfly valve to be used for pneumatic conveying line. (1) Non metal touch/Non gasket, (2) NOT significant leakage, (3) Perfect for hopper bottom for pneumatic conveying
BEACH HEAD #2123

"MI-MODE" --- Machinery database system at nominal initial cost. Instead of having the own server, standardized software "MI-MODE" is used on line. Multiple language is available as standard - English, Japanese, Spanish and Korean. More language will become available soon. Ticket service (for telephone marketing/service call), parts data base, component module are also available.
AAAmachine Japan #2123

AAAmachine Japan Inc. is providing 2D barcode service with special design in it - "QR DeSign". QR code is now used in USA as well as Data-Matrix, PDF417. "QR DeSign" is visibly original 2D barcode to be used for mobile phone service. It is best marketing tool for food traceability, corporate ID/promotion, store POP and digital signage.
SCORING SYSTEM #2123


The only complete Global Database for worldwide traceback and traceup recordkeeping and documentation of agricultural products with Point-to-Point Traceback™ for each individual Commodity/Entity in just seconds. You can use this software at NO initial/maintenance charge. Data usage fee is $0.55/data.

APPIE #3038
APPIE is the only Japanese professional organization in the powder and particle processing industry composed of industrial corporations and academic societies. We contribute to the advancement of the powder industry and technology. APPIE hosts and organizes POWTEX TOKYO, the largest international powder technology exhibition in Asia, as well as POWTEX OSAKA.

>> Powder handling equipment & technology << for chemicals/pharmaceuticals
Exen Corporation (Air knocker/impactor-Flow aid device) booth #2123
MATSUBO Corporation (air classifier, pulverizer) booth #2123
Yoshikawa Corporation (Bin discharger - CIRCLE FEEDER) booth #4044
Matsushima Measure Tech Co., Ltd.(level sensor) at separate booth #1453
Fujisaki Electric Co., Ltd.(Spray Dryer) booth #2641
Freund Vector (Turbo-Screener) booth #2617

AAAmachine, Inc. will answer questions
on the following equipment at booth #2123

Beach Head Inc. (M-MODE Supply chain system, machinery database, ticket system)
Nisshin Engineering Inc. (air classifier, jet mill)
ACO Co., Ltd. (dust remover & wet scrubber)

Tsukasa Industry.(POWGATE Slide Gate Valve for mixer/blender discharge with no powder leak)
Takagaki Seisakusho Co., Ltd.(Butterfly valve for hopper scale to connect pneumatic line, Feeder end valve for powder sharp stop in case of precise weighing )
Dynamesh /NBC Meshtec Inc. (Nylon, Polyester, Polyethylene mesh)

>> Energy saving technology - desiccant dryer, Adsorption heat pump chiller <<booth #2123
AAA Save Energy LLC. (

AQSOA Adsorption heat pump chiller for utilizing waste heat or solar hot water) - Thermal driven chiller, no compressor is used

>> Food process equipment & technology << booth #2123
Tsukasa Industry.(POWGATE Slide Gate Valve for mixer/blender discharge with no powder leak)
Takagaki Seisakusho Co., Ltd.(Butterfly valve for hopper scale to connect pneumatic line, Feeder end valve for powder sharp stop in case of precise weighing )
Scoring System Inc.- ScoringAg (food traceability system, 2D-barcode system)
AAAmachine Japan Inc. (QR Design code - unique 2D barcode service for mobile/smart phone)
Beach Head Inc. (MI-MODE machinery database system, supply chain, ticket system)

>> Packaging technology << booth #2123
Scoring System Inc.- ScoringAg (food traceability system, 2D-barcode system)
AAAmachine Japan Inc. (QR Design code - unique 2D barcode service for mobile/smart phone)
Beach Head Inc. (BI-MODE Supply chain system, machinery database, ticket system)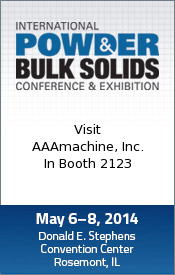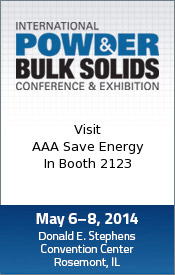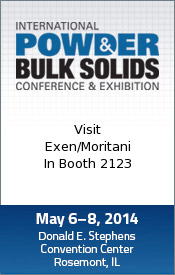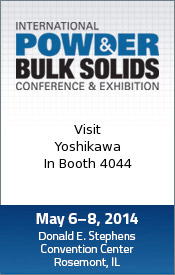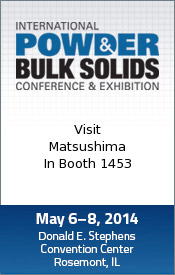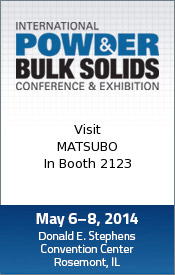 PTXi (Process Technology for Industry) provides a full range of processing technologies, products,equipment, systems and services conveniently located in dedicated events focused on powder and bulk solids processing, food process, chemical processing, pharmaceutical processing, and packaging solutions for the processing industries.
PTXi - Powder & Bulk Solids 2014 Jointly held with 4 major exhibitions - (1) Food Process, (2) ChemProcess, (3) PharmaProcess, (4) ProcessPack --- total 5 exhibitions
You are welcome to visit our booth for free by pre-registering in the following page.
Please click the above e-coupon for saving $45 registration fee.

AAAmachine, Inc. is happy to assist this Powder Show international visitors to make an appointment at any exhibitor's booth no matter if AAAmachine is marketing that exhibitor company or not. International business matching is our corporate goal. We are more than happy to assist all international guests to find the right equipment. At the same time, all exhibitors should be able to meet and find the potential customers. All equipment which is successfully sold in the country must have the reason to be selected. If the features of equipment match the customer's needs, it should be found even from a different country. Each equipment has different features.
>>>>>>> Please let us know before the show-start which technology you would like to see at Powder & Bulk Solids - PTXi 2014. AAAmachine will contact the exhibitor to make an appointment during the show. If a visitor does not know which exhibitor is worth visiting, we are happy to recommend an appropriate exhibitor/booth. Translating service can be provided upon request


AAAmachine is technical and marketing agent of these companies in US.
If you have any questions or equipment inquiry, please call AAAmachine at 800-996-0070 or e-mail us.
---
◆ Official HOTEL information ◆
If you have not made hotel reservation yet, please do it now. You can make a very close hotel reservation from the following PTXi official site at $139-$189+13%tax+surcharge.
These discounted Hotel rates are available through the Housing Bureau - OnPeak.
Please note: these discounted rates are NOT available directly through the hotels reservations lines, and must be made online or by calling the Housing Hotline at 1-800-759-5549.


Click here for online reservation.


◆ Suburbs HOTEL information ◆
This hotel offers FREE shuttle service to AAAmachine booth visitors between Rosemont Convention Center and the hotel in addition to the pick-up at O'hare airport. (15-20 min. west from O'hare)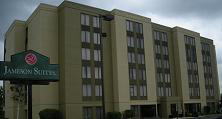 Jameson Suites of Arlington Heights
2111 S. Arlington Heights, Arlington Heights, Illinois 60005
Phone: 847-956-1400, Fax: 847-956-0804
AAAmachine trade show special rate: $62.99 +tax
* complimentary hot breakfast buffet
* shuttle service to/from O'hare and Rosemont convention center
* an on-site fitness center and an indoor whirlpool tub
* a separate living room with a sofa sleeper
* work area with free wireless internet access
* microwave, refrigerator, 25" television with cable TV and a premium movie channel
* iron and ironing board, coffee maker, hairdryer,
* free local calls, and alarm clock radio.

Please call AAAmachine now at 800-996-0070 for hotel reservation or e-mail us to get AAAmachine special trade show rate $62.99+tax